with the help of  Yoga Cushion Massage Pillow Lay back and relax onto this "bed of needles" to massage pressure points that help release tight muscles and relieve stress.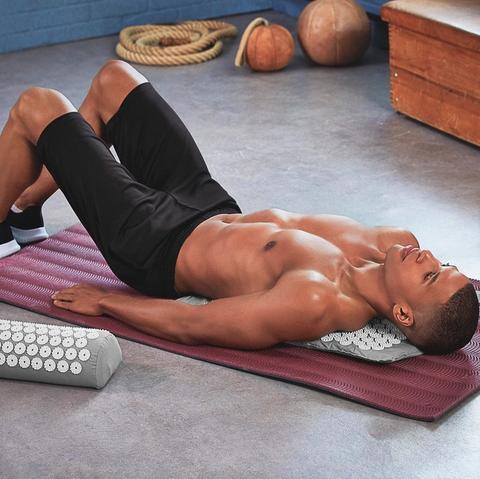 Yoga Cushion Massage Pillow consists of a thin mat covered with ABS plastic spikes. It is inspired by the ancient Indian healing tradition that is believed to have been around for thousands of years. The thousands of spikes that have been strategically placed on the mat and pillow are harmless to the skin and will provide your body with healing benefits.
FEATURES & BENEFITS
non-invasive so can be tried without the element of risk.
increases energy levels and improves sleep.
is effective for a variety of different types of pain. Relieves stress, aches, pains and muscle tension.
can stimulate the production of endorphins. Endorphins work in a similar way to opioids. Often referred to as 'the body's natural painkillers, they help to reduce pain and produce a feeling of euphoria.
has been shown to help with fatigue and to increase energy levels.
Self-acupressure aids in the movement of bowel function and generally was found to improve the wellbeing and quality of life of those suffering from constipation.
Hypertension or high blood pressure is directly connected to blockages in the Liver meridian; therefore, acupressure can be used as a successful complementary therapy in managing hypertension.
Acupressure mats roll up just like a yoga mat, so they're compact. Ideal for carrying with you or storing away at home for whenever you need it.
HOW DOES Yoga Cushion Massage Pillow WORK?
Yoga Cushion Massage Pillow mat is a perfect assistant for self-treatment. It works in a similar way as acupuncture by having your body release endorphins, which have the ability to produce analgesia and a feeling of well-being. Many people have different reactions to this, which may include: happiness, a clearer mind, more energy, and relaxation.
HOW TO USE Yoga Cushion Massage Pillow?
Place the mat on the ground with spikes pointing up.
Lie on the mat. The mat will allow you to target curved areas, such as the neck, lumbar, and even feet.
For beginners, it might be better to start for a shorter period of time and/or wear a shirt or place a thin cloth between the spikes and your skin.